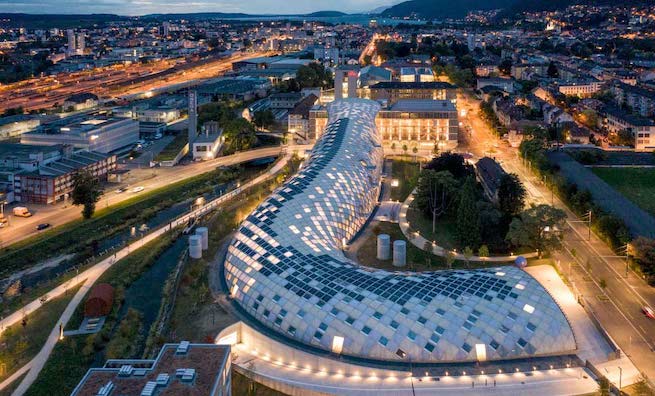 The half-yearly financial report from Swatch Group reveals the impact of COVID-19 on its financial position (pictured: Swatch Group headquarters in Biel, Switzerland).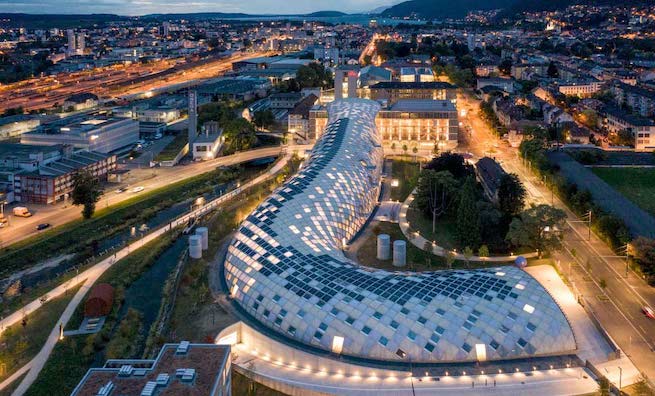 The latest Swatch Group financial report, published 14 July, indicates it has recorded a half-yearly loss for the first time, with net sales for the first six months of 2020 declining 43.4 per cent due to the COVID-19 pandemic.
The Group – which owns watch brands including Omega, Tissot, Longines, Hamilton, and Breguet, among others – recorded a net loss of CHF308 million ($AU467 million), compared with a profit of CHF415 million ($AU629 million) for the same period in 2019.
In a video presentation accompanying the report, Nick Hayek Jr, CEO Swatch Group, said, "We went through four very difficult months [from February to May]," which began with the lockdowns in Mainland China in late January. 
The report noted that 80 per cent of its brand's international distribution channels were temporarily closed due to the pandemic in the first six months of the year.
A further 260 stores were permanently shuttered during the period – approximately 20 per cent of Swatch Group's total store count – leading to 2,300 job losses, or 6.5 per cent of the total workforce.
A significant proportion of the closed stores were Calvin Klein locations; Swatch Group opted not to renew its licensing agreement with Calvin Klein in October 2019. 
Hayek noted that the Group had accessed CHF170 million ($AU257 million) of its CHF400 million ($AU606 million) insurance policy to retain workers, of which CHF150 million ($AU227 million) had been paid to manufacturing staff at its Swiss factories.
Future strategy and e-commerce
While e-commerce was only "partially feasible" during the lockdown period, Peter Steiger, chief controlling officer and US country manager Swatch Group, noted that US digital sales were robust and indicated that the company would pursue a digital-first strategy in the regio
Whether Swatch Group continues to close physical stores outside the US remains to be seen.
Looking to the remainder of 2020, the half-yearly report stated, "The Group's management is convinced that the sales and profit situation will improve quickly in the coming months, parallel to the further easing of COVID-19 measures in the countries.
"The positive outlook is strengthened by the new products which will be launched in the second half of the year, as well as the lower cost base. This will lead to increased production capacity in the third and fourth quarter 2020. A positive operating result is expected for the full year."
During the video presentation, Hayek noted that the Group had already returned to profitability in June, adding, "There are a lot of opportunities."


Source: Jeweller Magazine 17-7-2020